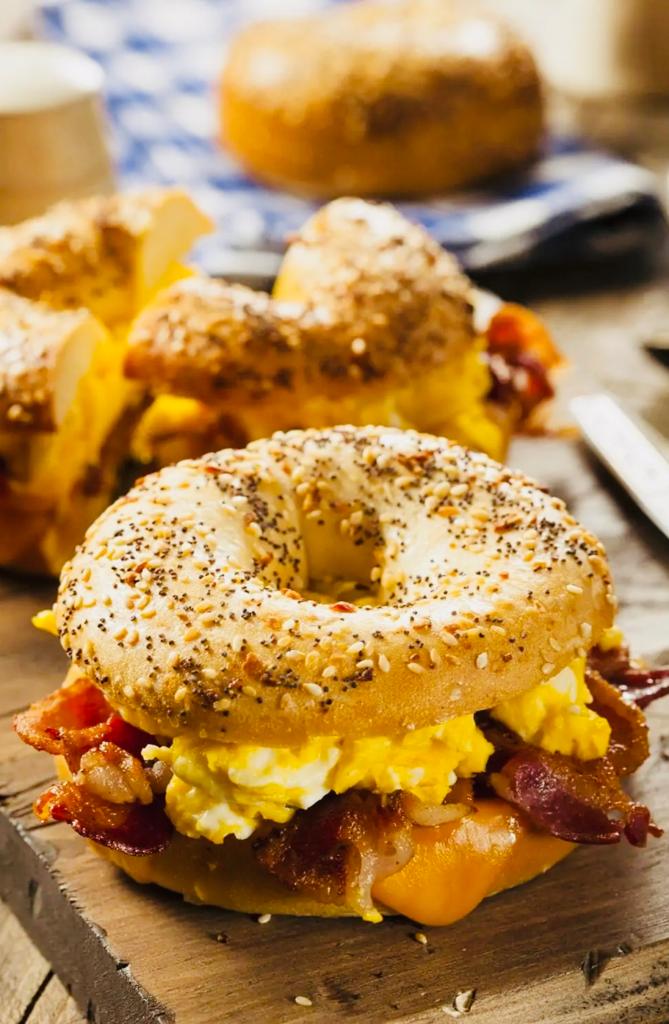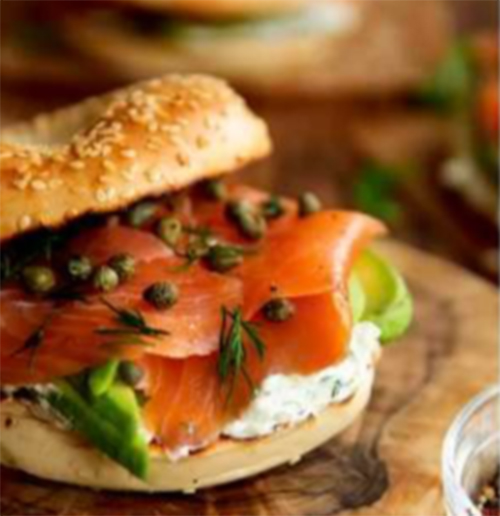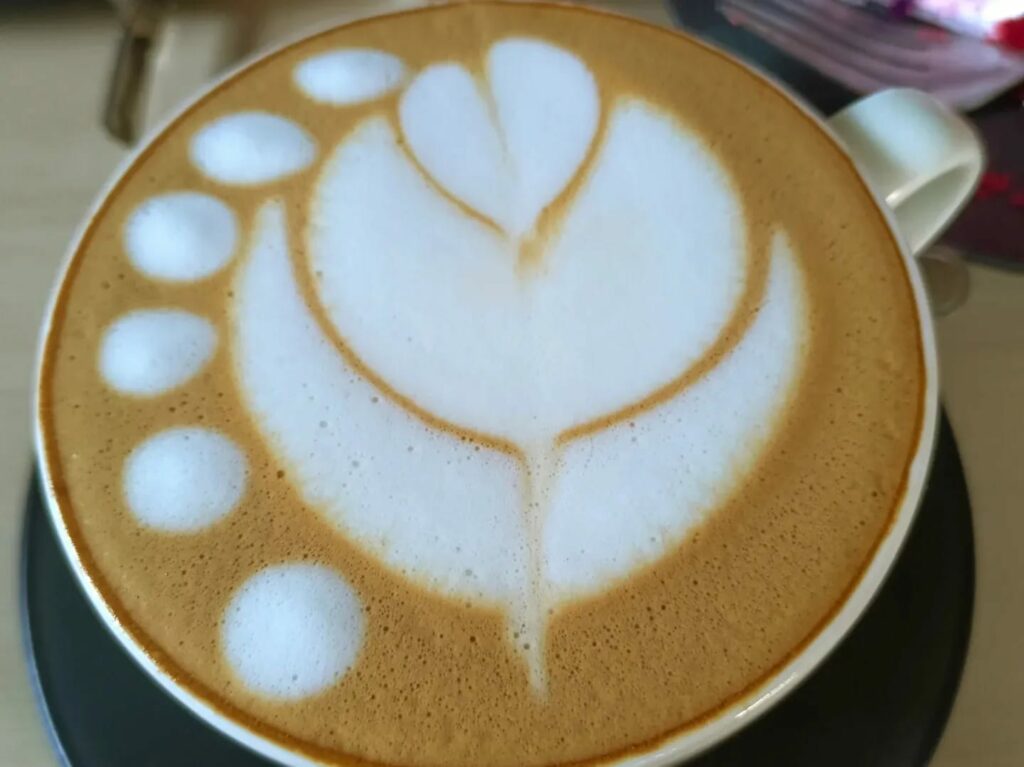 with a spread of your choice.
with sausage/ bacon, egg, lettuce, tomatoes and dressing.
with smoked salmon, cucumber, capers and onion compote.
Egg, avocado, cream cheese and cherry tomato.
Steak, Eggs & Cheese Bagel
with Savoan house dressing
Vegan Bagel with Pesto Melt
with vegan house pesto,Sliced tomatoes, slices of avocado, baby spinach, red peppers and caramelized
Onion.
Spreads – Cream cheese, Nutella, peanut butter, jam/marmalade, Honey.
• Ultimate Breakfast Burrito
Tortilla stuffed with mixed peppers, caramelized onions, scrambled eggs, corn, sour cream & guacamole.
Vegan Option – smoked tofu instead of scrambled eggs.
• Savoan Harvest Everything Breakfast
Breakfast the Savoan way.
– Two eggs with toast and baked beans
– Two eggs with toast, home fries or harsh brown and baked beans.
– Two eggs with toast, bacon/sausage & home fries/harsh brown & Baked beans.
NB: Eggs (Plain fried, Sunny side-up, scrambled, poached or boiled) – Toast (White or brown)
Savoan Spanish Omelette Breakfast combo
Three eggs fried with onions, cherry tomatoes, red peppers, potato Slices, fresh herbs & cheese served with home fries/harsh browns, Salsa, coffee/tea & Fresh juice
Pancakes full English Breakfast
Hot buttermilk pancakes, served with sliced banana or seasonal berries & maple syrup, two eggs cooked to your liking, 2 sausages & crispy bacon, coffee/tea & Fresh juice
Granola with fresh seasonal fruits, yoghurt & honey.
Oatmeal Porridge *Topped with raisings, cinnamon & bananas.
Healthy seasonal fruit salad bowl, dressed with Greek yoghurt, mint and honey (with an option of nuts)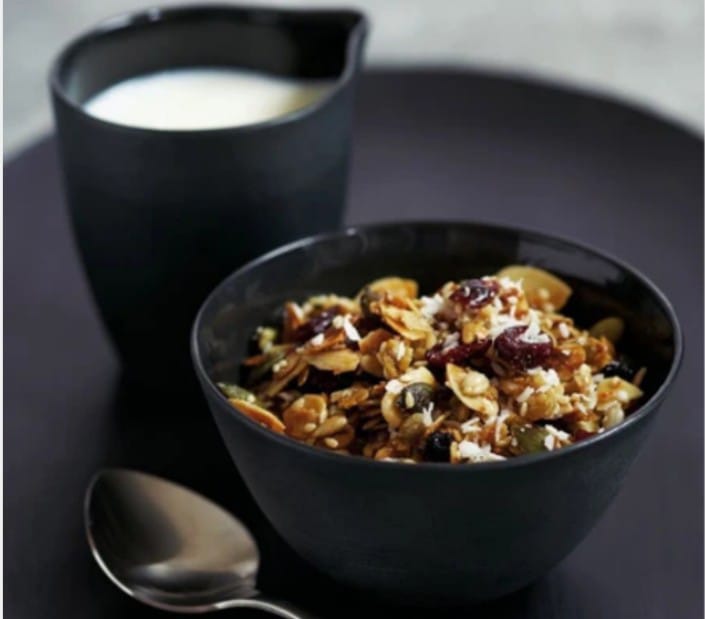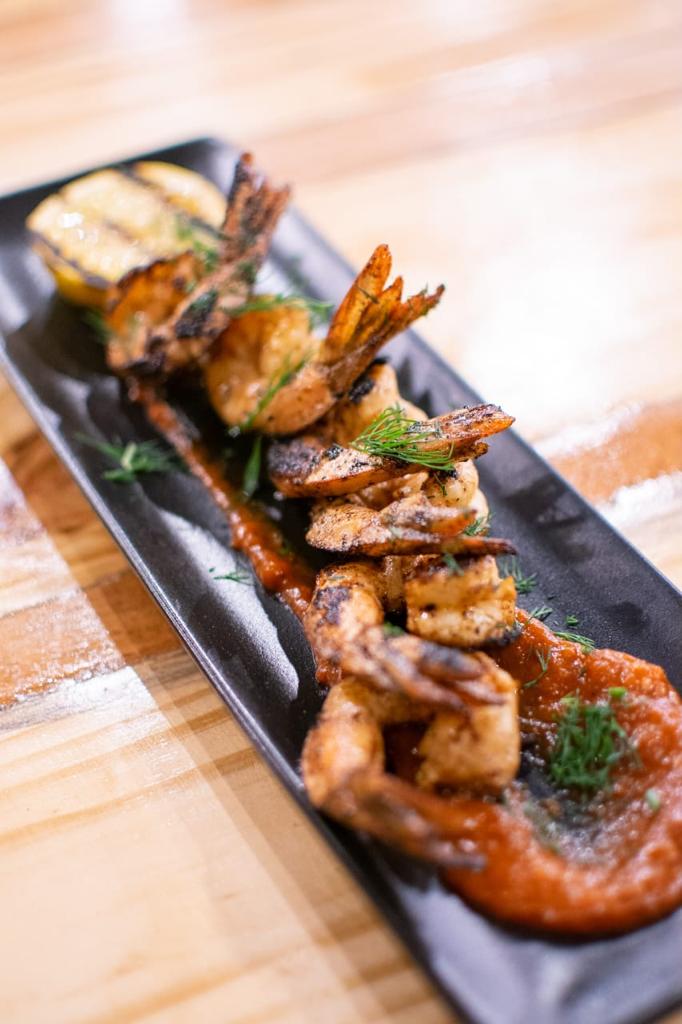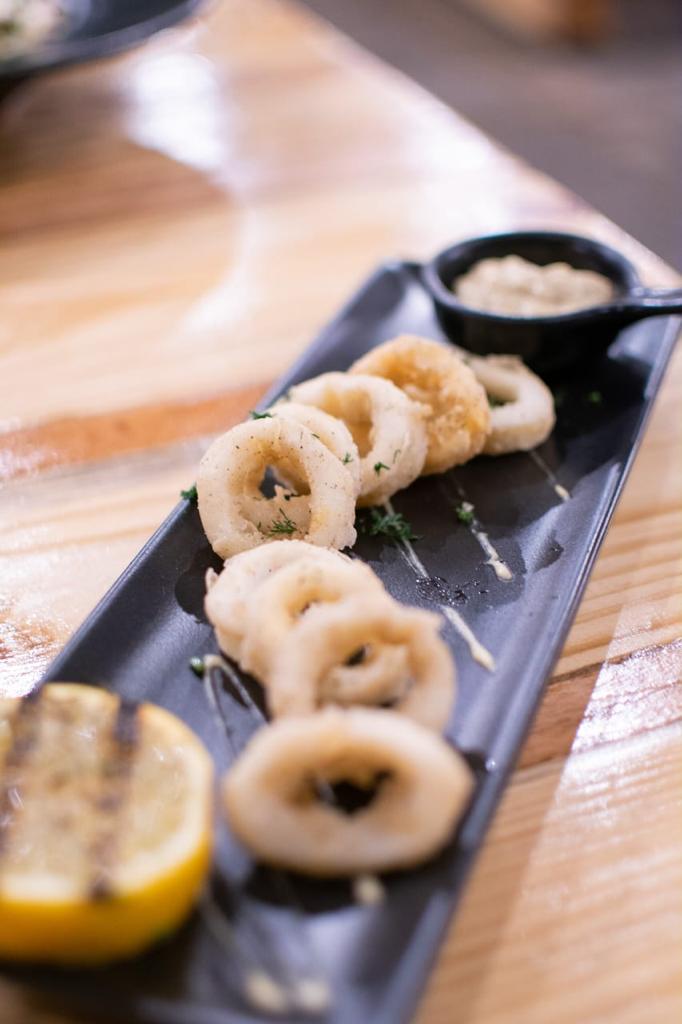 4 pieces served with pineapple chutney and salad
4 pieces served with pineapple chutney and salad
4 pieces served with chermoula sauce and salad.
3 Beef, Chicken or spicy black bean sliders.
3 mouthwatering fish sliders.
4 succulent fish cake patties served with Tartar Sauce
Savoan Garlic Chili Prawns
(120g) served on a bed of tomato salsa.
Salt & Pepper Calamari/ Chili Squid
char-grilled squid, coriander, fresh lemon juice served with garlic Aioli
3 beef balls served in Marinara Sauce or Garlic
Honey Sauce
Nachos topped with aged cheddar cheese, salsa, guacamole, sour cream and jalapenos.
Beer Battered Cauliflower Bites
fried cauliflower dipped in buffalo sauce or BBQ sauce served with ranch dressing and house salad
Queen prawns served in coconut sauce & house salad.
Assorted with wasabi aioli & house Salad.
Savannah Watermelon Salad with Feta
watermelon, avocado, roasted cashew nuts, mint, coriander with sour cream & honey dressing.
lettuce, avocado, bacon, cherry tomatoes, onions with citrus and mustard dressing.
Lettuce, tuna chunks, onions, tomatoes, herbs, baby potatoes, boiled egg, parsley, olives and house dressing.
cucumber, red onion, tomatoes,
olives, cubed feta, dried oregano with olive oil & red wine dressing.
Vegn – tofu
Sweet Potato Fries & Beetroot Croquettes with cashew Mayo
Tantalizing crispy gluten-free crisp Beet, sweet potato, oats and garlic Croquettes cooked in coconut oil served with cashew mayo sauce
NB:- Vegan, vegetarian & Gluten-free.
Mediterranean Quinoa Salad
Quinoa, sun dried tomatoes, onion cucumber, red peppers, olives, parsley, avocado, feta cheese with lime vinaigrette dressing.
Green Goddess Avocado-Pesto pasta salad
Fusilli Pasta, house pesto, avocado, cherry tomatoes, fresh herbs, baby spinach, sour cream with garlic-lemon dressing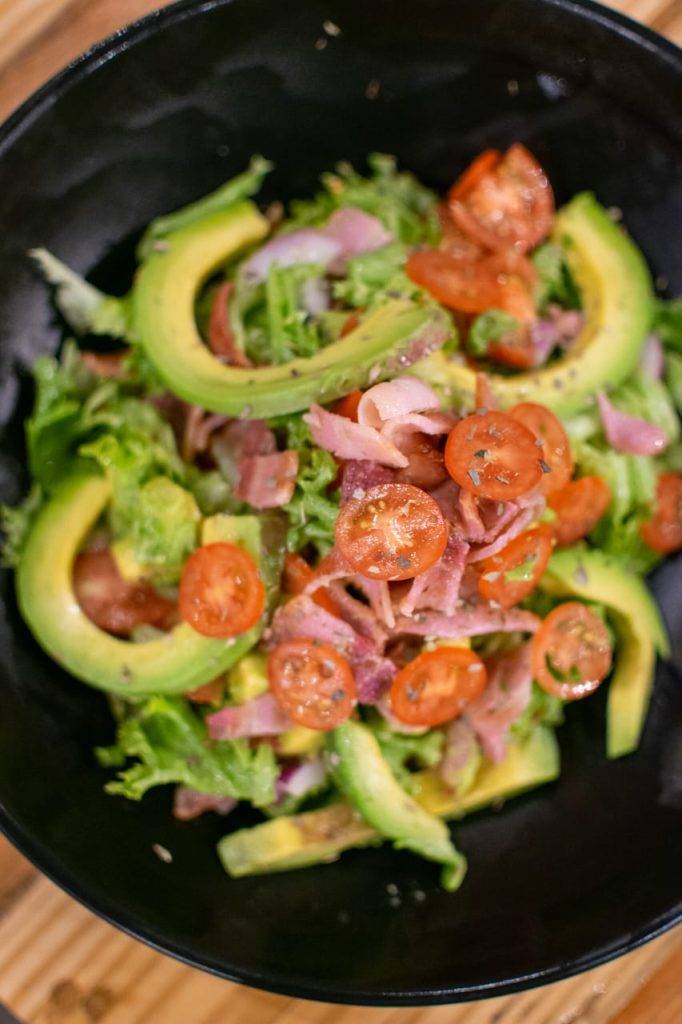 • AGED MEAT CARNIVORE CORNER •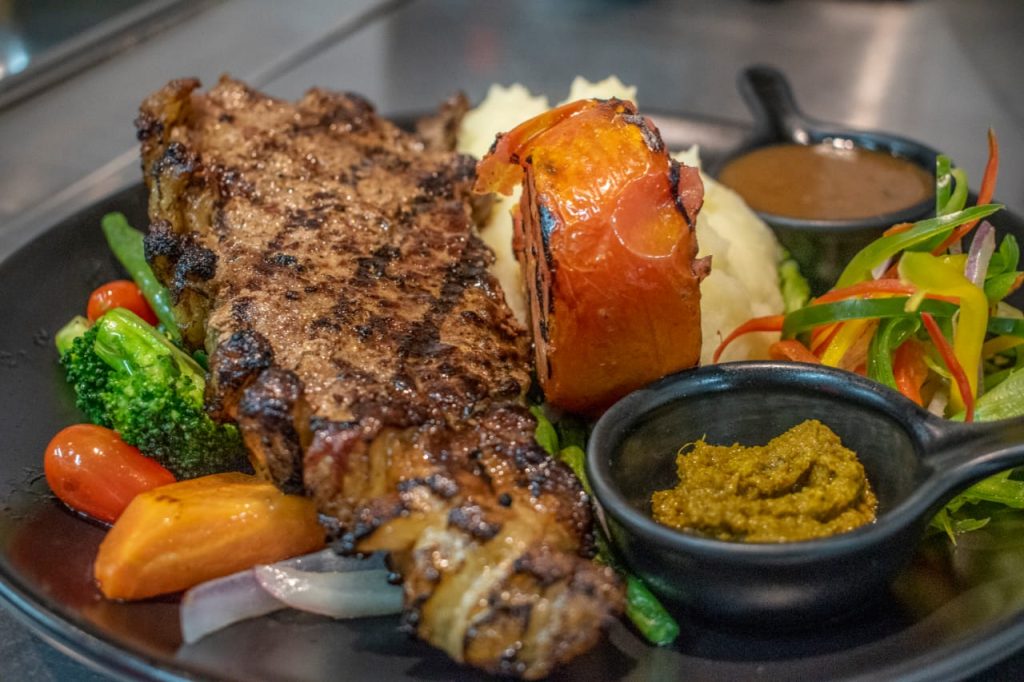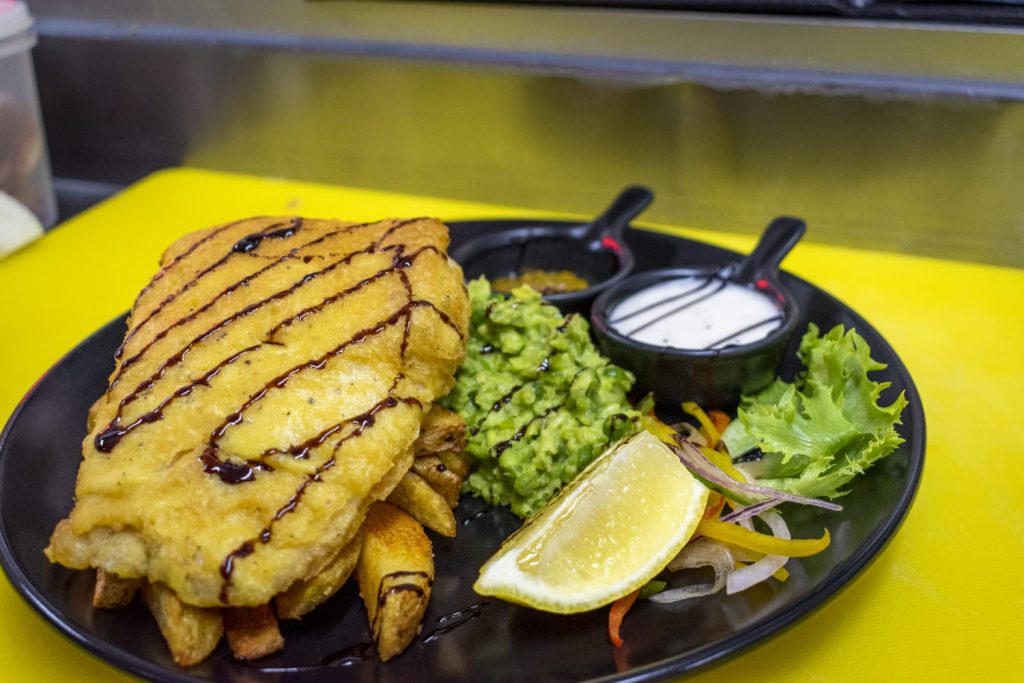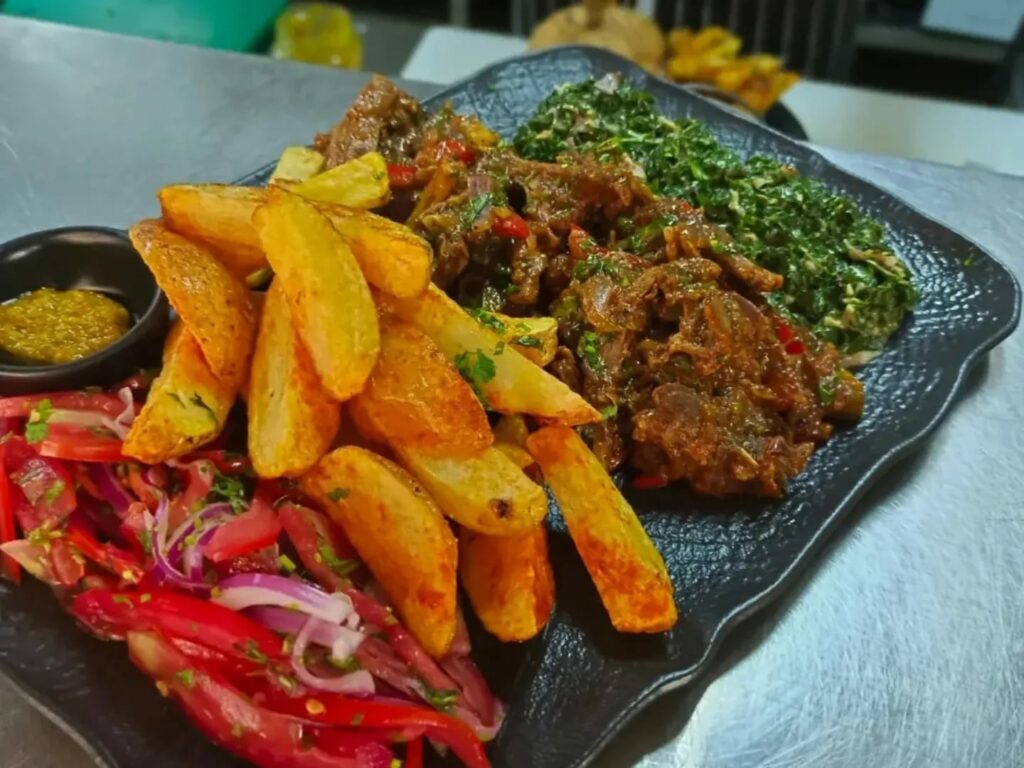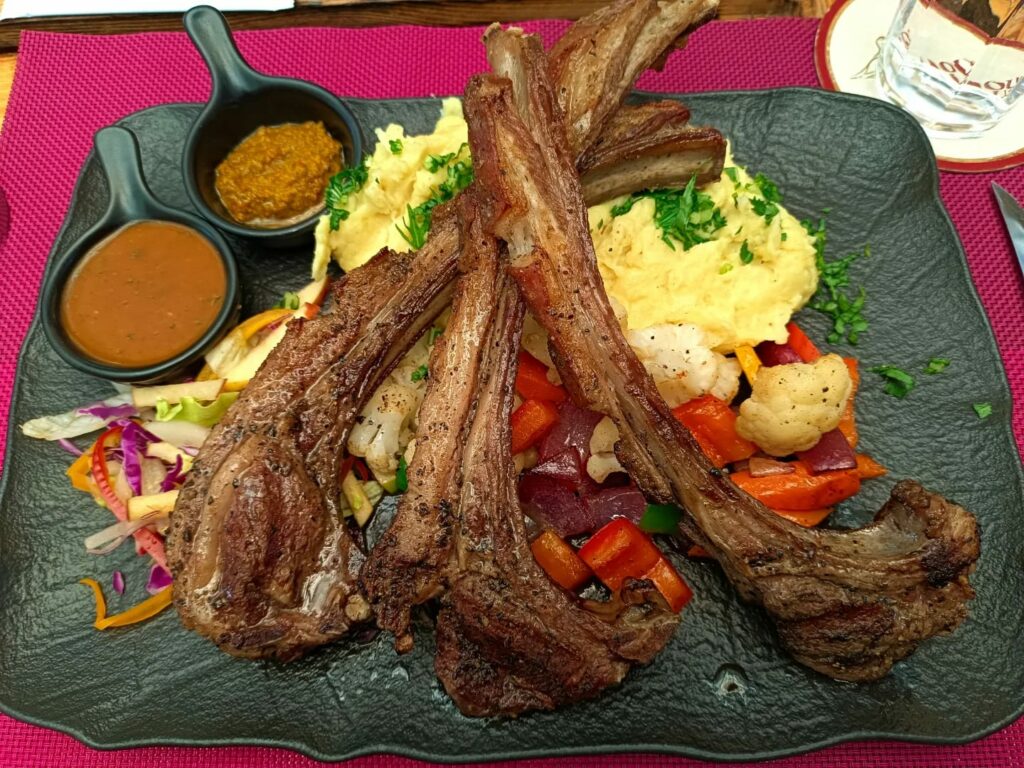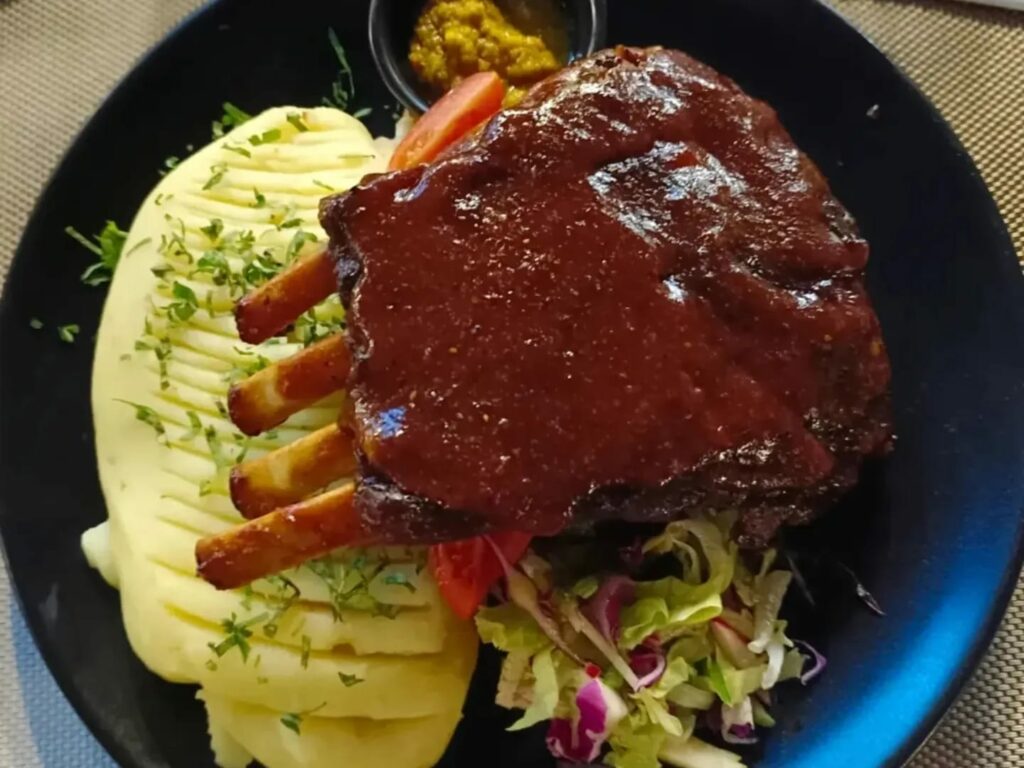 21 days aged Kenyan grass-fed steak from the famed Laikipia ranches simply rubbed with garlic and olive oil and flame grilled to your liking. Served with seasonal veggies & condiment of your choice with a choice of mushroom gravy or red wine gravy.
Horseradish & Herb Crusted Beef Tenderloin - 250g
Luxurious beef tenderloin coated in a horseradish, Dion mustard & fresh herbs rub, served with Roast Potatoes or Creamy Mash and horseradish sauce.
Tender and juicy mouth-watering cut, grilled to perfection with a butter & herb compact rub to your liking, served with 2 sides , seasonal veggies Sauces:- a choice of mushroom gravy , red wine gravy or black pepper sauce.
Rosemary Lamb Chops - 250g
Three thick cut Kenyan Merino lamb chops infused with olive oil, garlic and rosemary and finished on a flame grill to your liking. Served with parsley mash, seasonal veggies and mint dressing.
Locally sourced, grain fed pork packed with flavor, smokey tenderness and roasted made with Savoan harvest secret BBQ sauce.
Succulent ultimate Savoan harvest combination of minute beef steak, Fish skewers whole lobster infused with layer upon layer of flavors including rosemary and Oscar sauce
Slow-cooked beef ribs marinated in our house dry rub, served with a side.
Traditional English Fish and Chips
Savoan famous beer battered red snapper fillet, mushy peas, tartar sauce & a slice of fresh lemon
Cajun Fish Fillet with Pumpkin & Potato Roast
Pan fried Red snapper seasoned with Cajun mixed spices and fresh herbs topped with a creamy Remoulade sauce
Succulent Salmon fillet perfectly cooked in Teriyaki Sauce, with a choice of roast potatoes, mash potatoes or hand cut fries and French beans served with a creamy Remoulade sauce.
Savoan Platter (for 2 orfor 4)
beef short ribs, pork ribs, 1⁄2 roasted chicken, beef shashliks & bratwurst- sharing platter with 2 or 4 sides and kachumbari.
Freshly seasoned aged beef patty,
bacon, caramelized onions, fried egg, cheese, topped with our house dressing.
Double burger patty, double cheese, double bacon, lettuce, caramelized onion, tomato, creamy mushroom, jalapenos topped with our house dressing.
crispy chicken breast (Buffalo or BBQ), lettuce, tomatoes, caramelized onion, sour cream/cheese & ranch dressing
Aged Angus beef, cooked to perfection. Topped with bacon, egg, lettuce, caramelized onion, tomatoes and a secret house dressing. Served with a side and house salad
3 Angus sliders topped with lettuce, tomatoes Caramelized onion and house dressing served with hand cut fries
NB:- Savoan Angus Burger and Sliders are seasonal.
Spicy black bean patty, lettuce, onions, tomato, coleslaw, avocado slices topped with ranch dressing.
Extras:
Bacon, cheese, guacamole
Egg, avocado, mushrooms, onion rings, sausage
NB: All burgers served with hand cut French fries and house salad.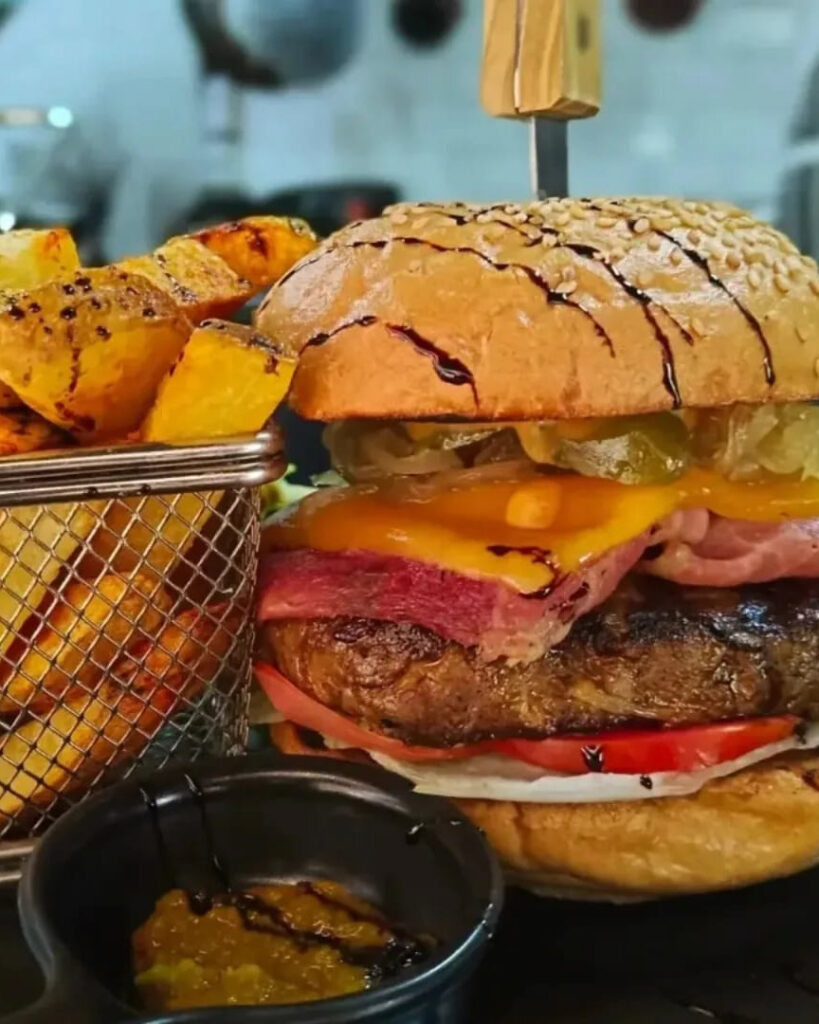 • Chicken in the harvest •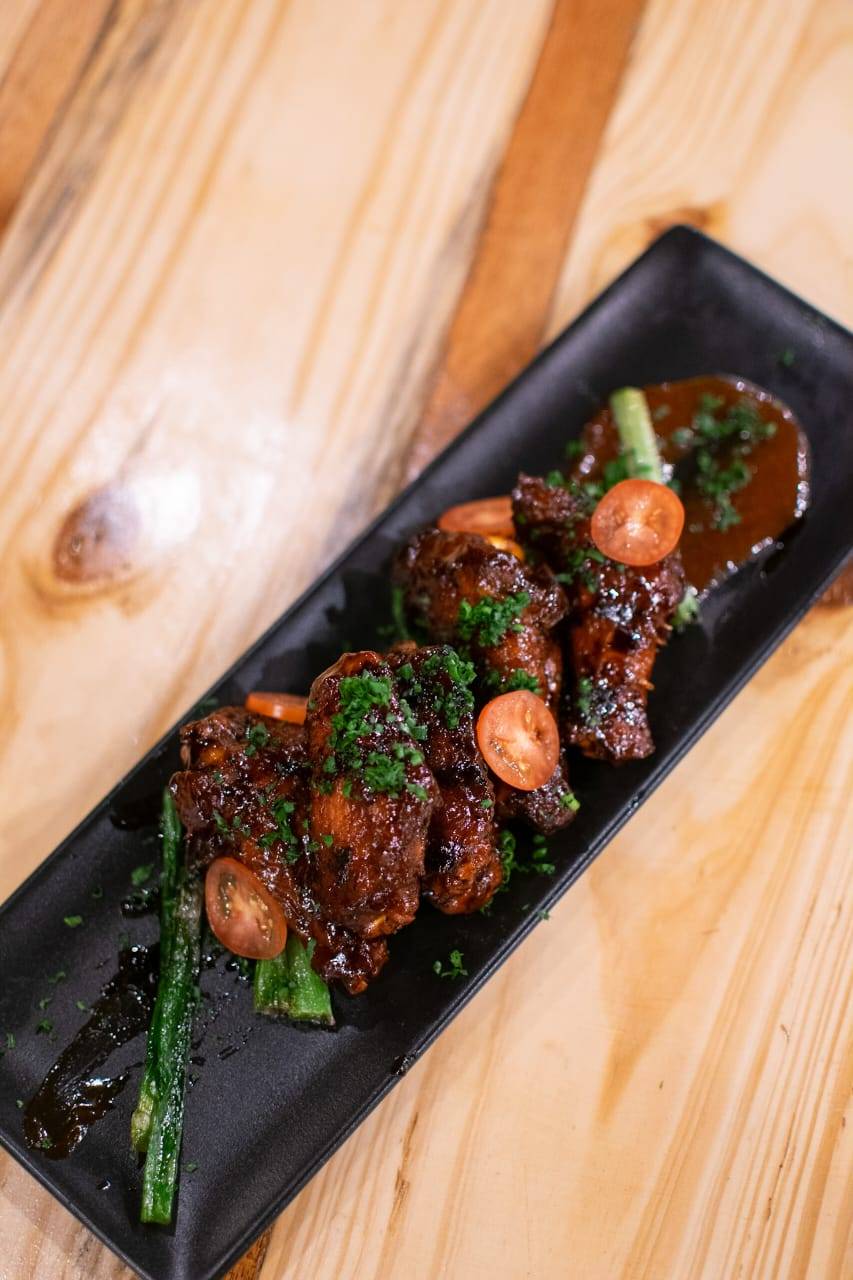 Honey glazed BBQ Wings with sesame seeds.
Sauces: Buffalo sauce, Ranch sauce, BBQ sauce
roasted and glazed with our BBQ sauce served with a side and house salad
Creamy Tuscan Chicken with Cilantro Lime Rice
Tender chicken breast cooked in a creamy parmesan sauce, spinach, Mushrooms and cherry tomatoes served with Cilantro lime Rice and seasonal vegetables.
Thyme & Lemon cornflake-crusted chicken
1⁄4 Crispy and tender thyme marinated chicken topped With lemon garlic sauce & served with roast potatoes & grilled assorted vegetables
Chicken wrap or sandwich (Buffalo or BBQ)
toasted white tiger roll stuffed with buffalo chicken breast, bacon, lettuce, tomatoes, onions, avocado slices, parsley with sour cream dressing
Floured tortilla stuffed with mayo tuna,lettuce, chopped green onions, carrots, celery, sweet red peppers
with house vinaigrette dressing.
(Beef/chicken/fish options withAuthentic Kenyan cheese filled with grilled vegetables, served with fries or garden salad)
Pineapple infused marinated meat that has been slow-grilled to perfection. Served over corn tortillas with fresh pineapple, onions, cilantro and a squeeze of lime and a side of fries/ salad
Philly cheese steak sandwich
open tiger roll stuffed with minute beef steak, caramelized onion, rocket leaves, green peppers, cheese drizzled with reduced balsamic vinegar
Crispy Baked Cauliflower Tacos
spiced breaded cauliflower in Buffalo or BBQ sauce, caramelized onion, lime juice, avocado slices, tomato salsa, served with garden salad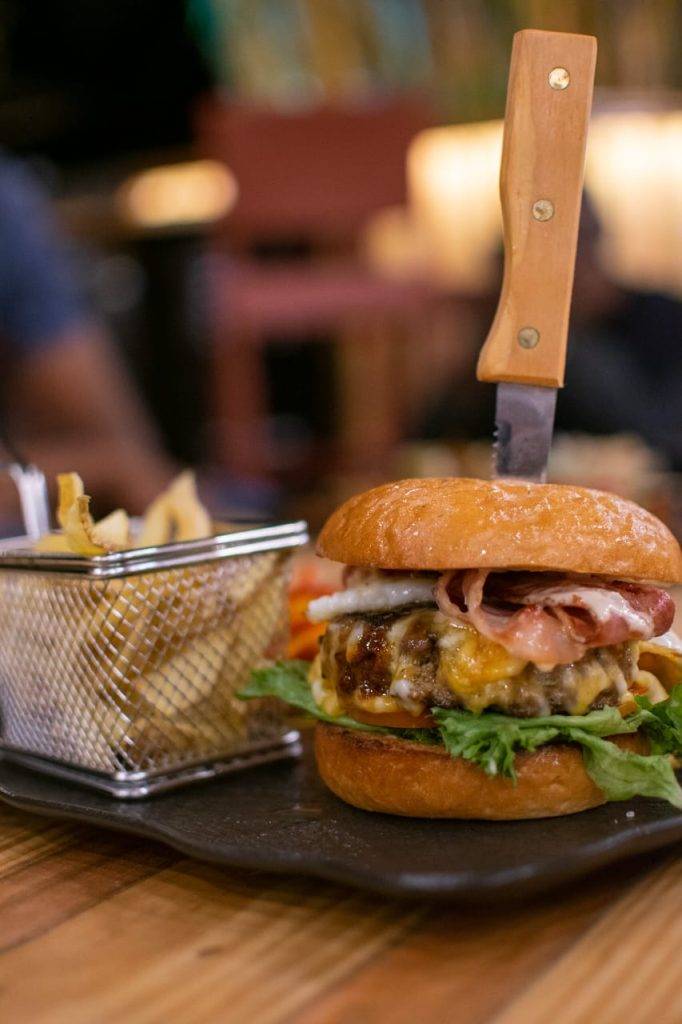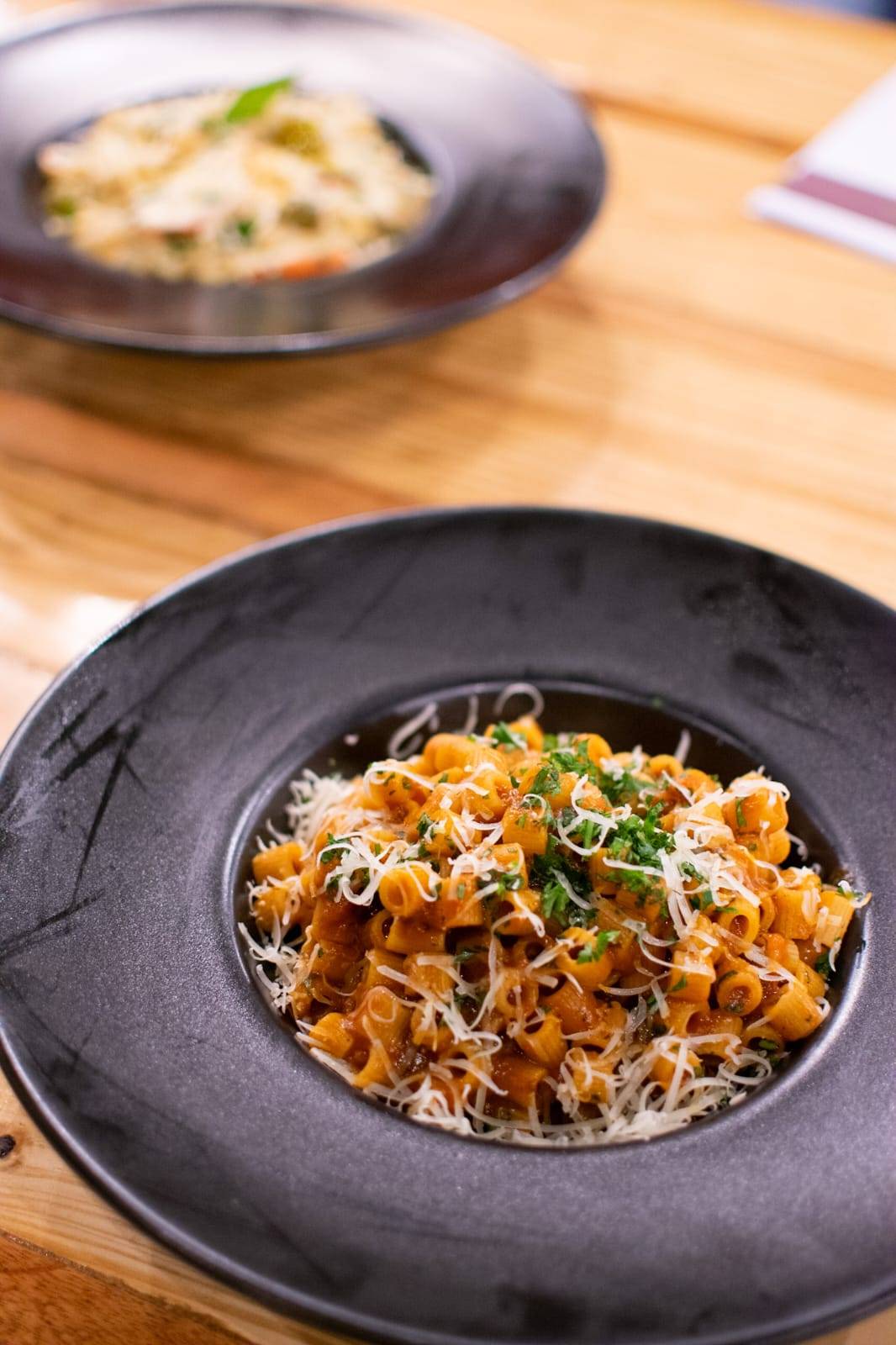 Spicy butter sea food pasta
Creamy garlic seafood pasta.
Penne pasta with our rich and spicy tomato sauce, crushed red peppers and parmesan cheese shavings.
Pasta with bacon infused in white sauce & topped with bacon & parmesan cheese.
Chicken & Bacon Alla Vodka
Tossed chicken and bacon with penne pasta in a deliciously creamy sauce infused with vodka.
Creamy Mushroom Tagliatelle
Tagliatelle pasta infused with creamy button mushroom, parmesan cheese, fresh herbs and reduced white wine sauce
The Savoan classic Thai Green/ Red curry freshly made with broccoli, courgettes, button mushrooms and onions in a lemongrass, ginger, coriander and garlic coconut milk, kaffir & fresh basil sauce served with jasmine rice.
Creamy Coconut Lentil Curry
Lentil cooked in coconut based Sauce infused with spices and fresh herbs & served with basmati rice & naan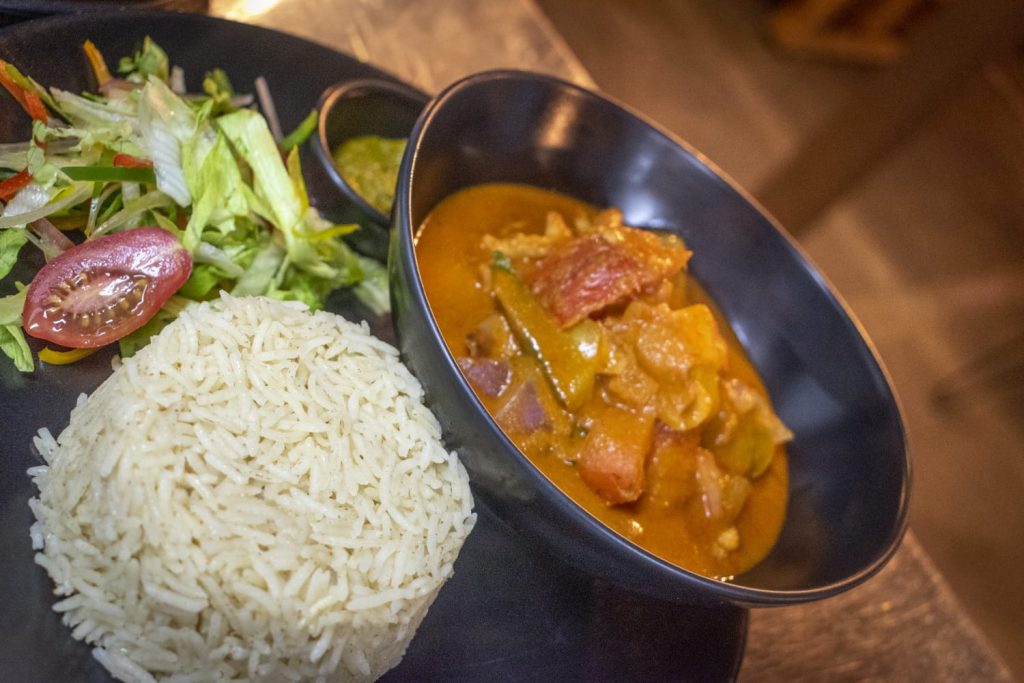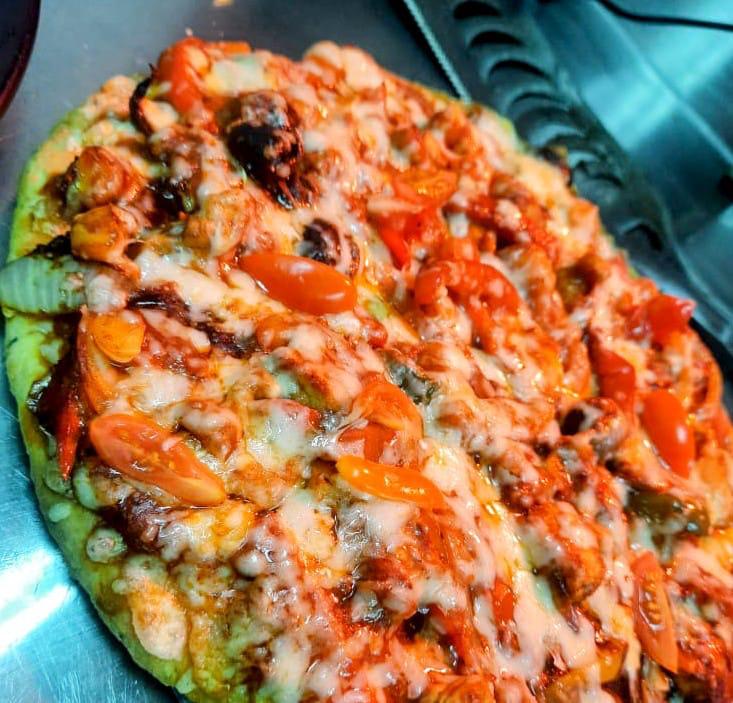 Topped with marinated beef or pork strips, red Onions, mozzarella, green peppers & oregano
Topped with BBQ chicken strips, mozzarella, Caramelized onions, bell peppers & fresh cilantro
Topped with ham, mozzarella cheese & pineapples
Savoan ultimate veggie pizza
Topped, mozzarella baby spinach, artichoke, bell peppers, onion, cherry tomatoes and olives
Topped with cherry tomatoes, mozzarella & fresh Basil
Topped with pepperoni, mozzarella, Fresh basil & oregano.
buttermilk fried chicken on Belgian waffles with maple syrup.
Chicken strips with chips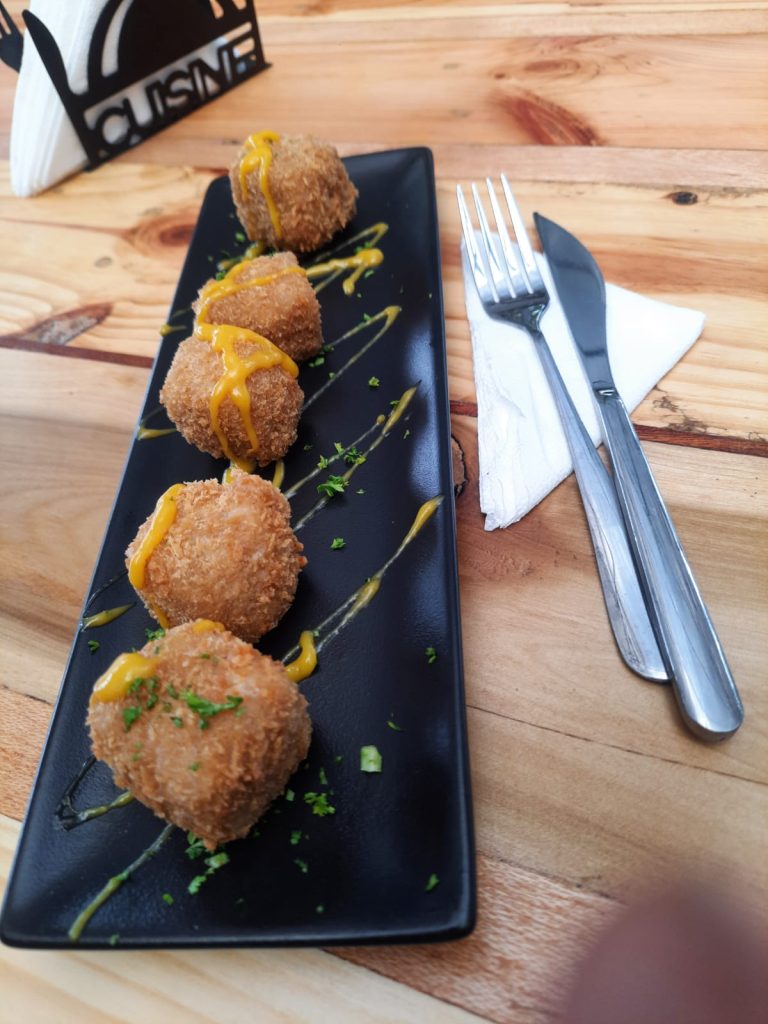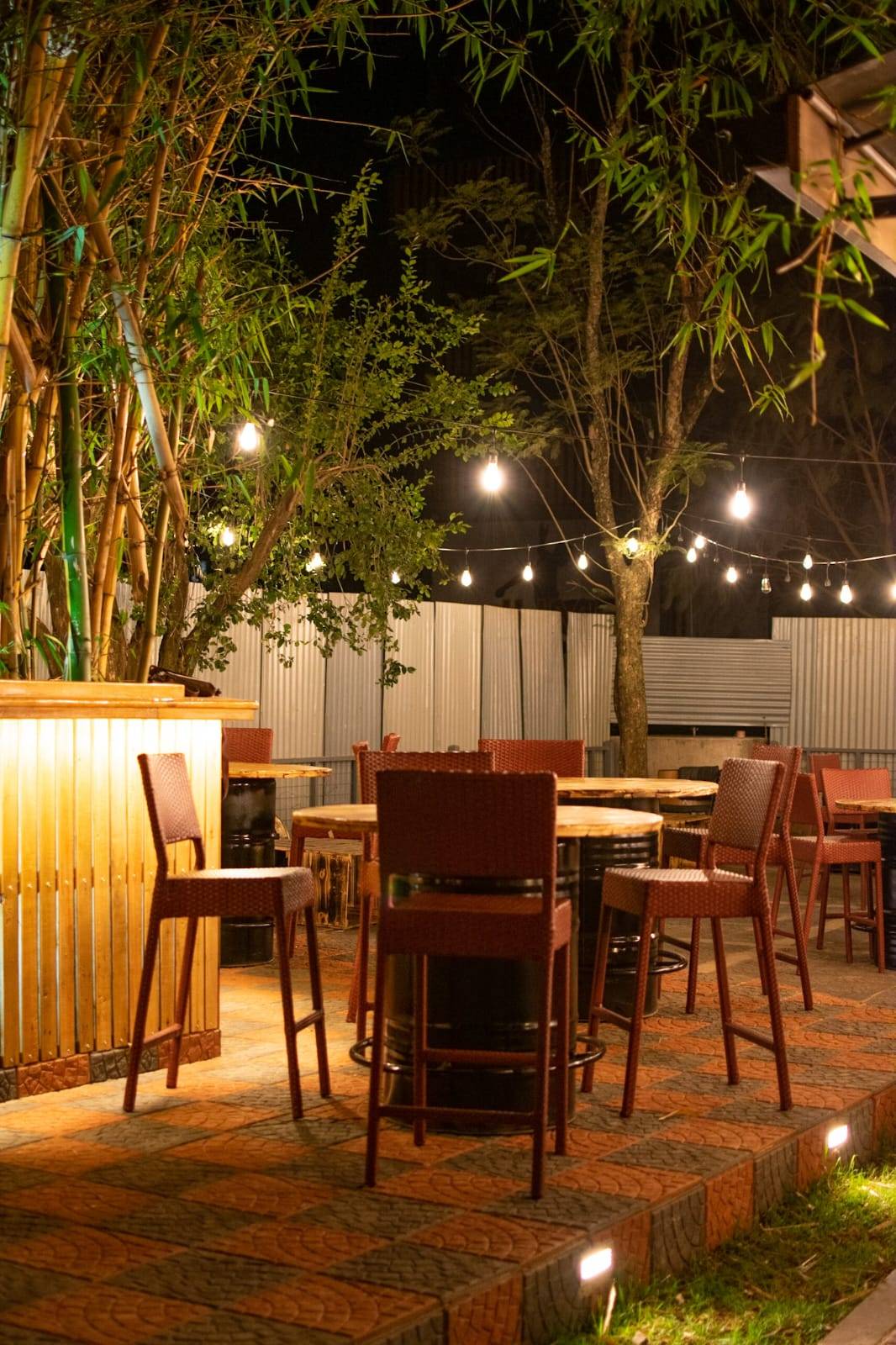 Roast rib of beef, yorkshire pudding, crispy roastles, cauliflower cheese pot, roasted carrots and shallots, served with french beans, gravy and a horseradish.
Roast chicken, crispy roasties, cauliflower cheese pot, roasted carrots and shallots, served with french beans and chicken gravy sauce.
Roast lamb, crispy roasties, cauliflower cheese pot, roasted carrots and shallots, served with French beans and mint sauce.
Savoan Vegetarian Sunday brunch
Creamy black pepper mushroom pie, crispy roasties, cauliflower cheese pot, roasted carrots and shallots, served with French beans.
Don't forget: The Savoan classic Bloody Mary or Heathrow cocktails (see drinks menu).
• The Harvest Sunday Breakfast •
Pancakes full English Breakfast
Hot buttermilk pancakes, served with sliced banana or seasonal berries & maple syrup, two eggs cooked to your choice, 2 sausages & crispy bacon.
(Any Way You Like It), acon, mushrooms, caramelized onions, hash browns and baked beans served with granary toast.
2 Scrambled / Fried / Poached/ Fluffy Omelette Eggs Benedict
Classic eggs served with granary toast, ham, & hollandaise sauce served on a soft bun.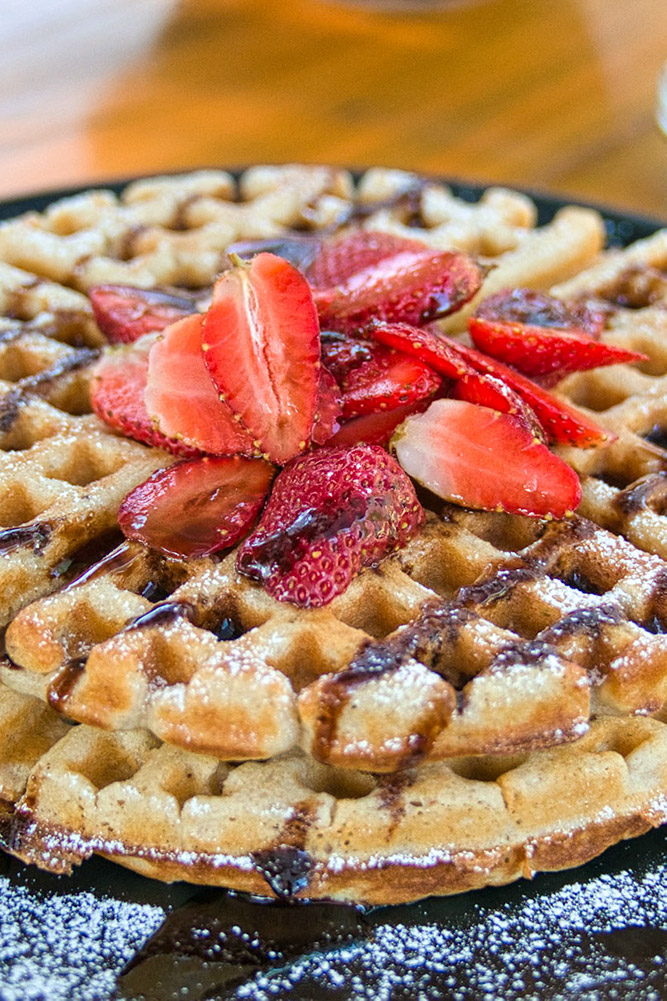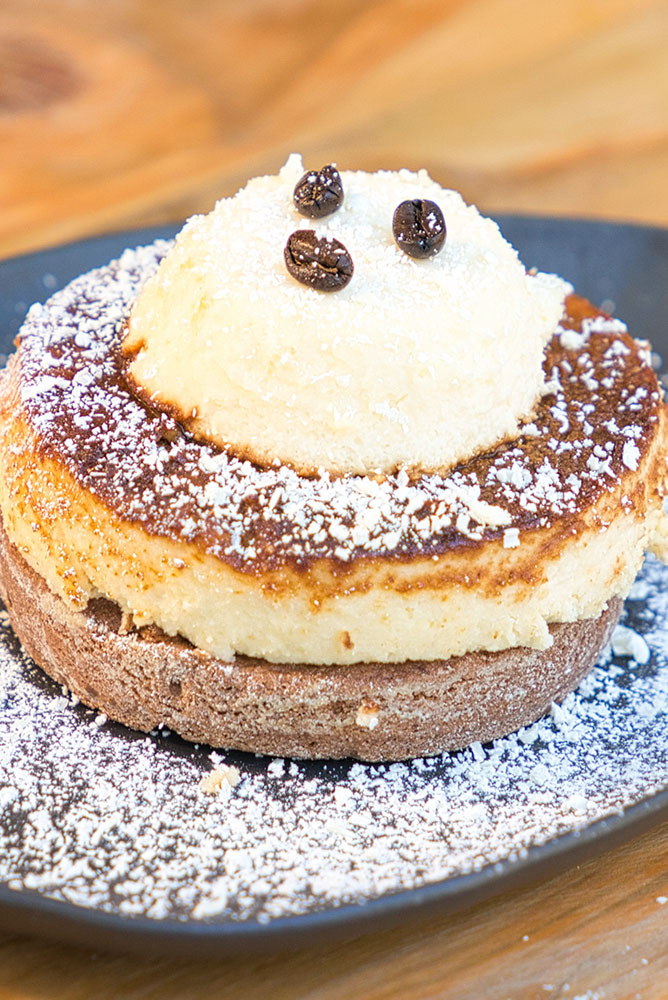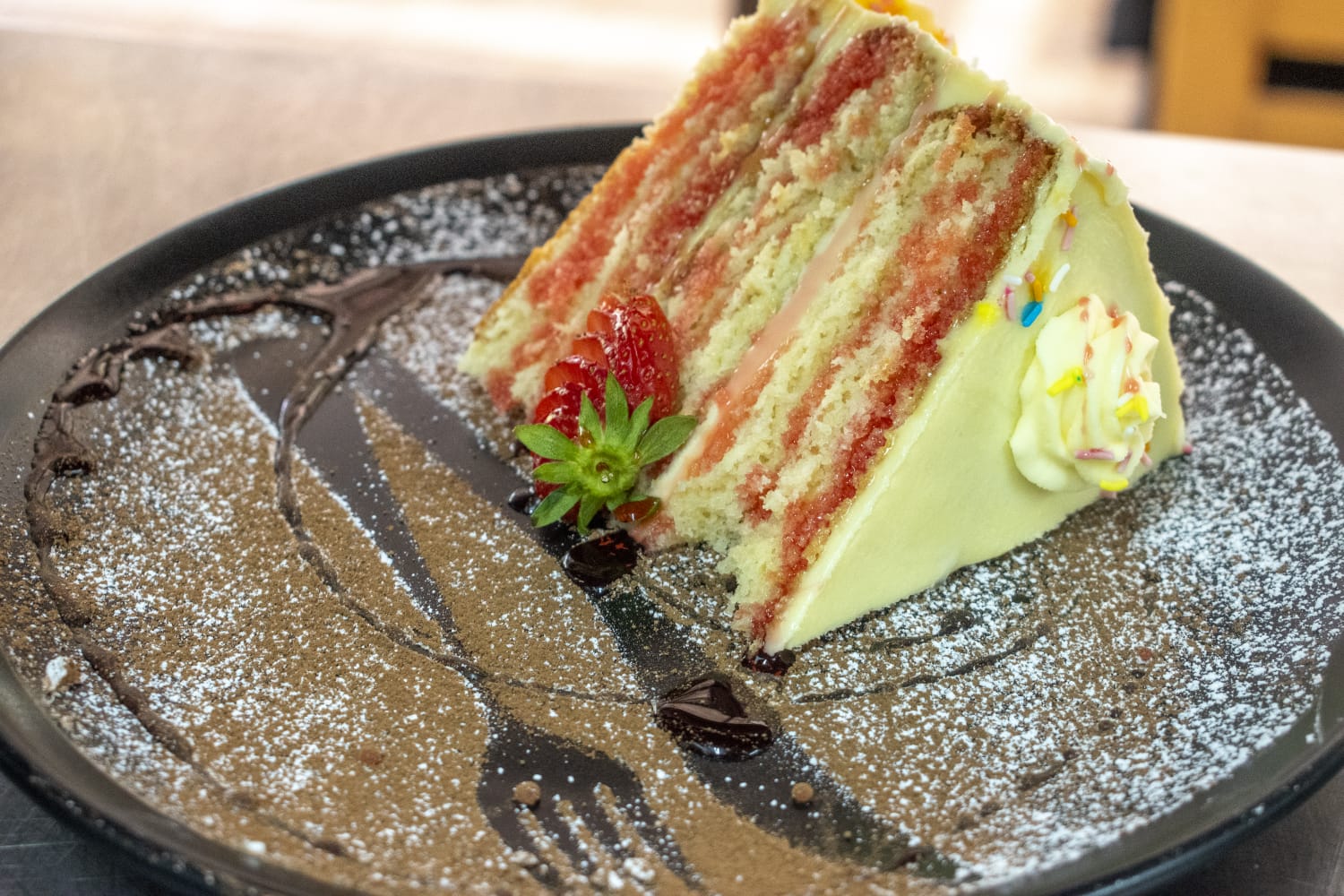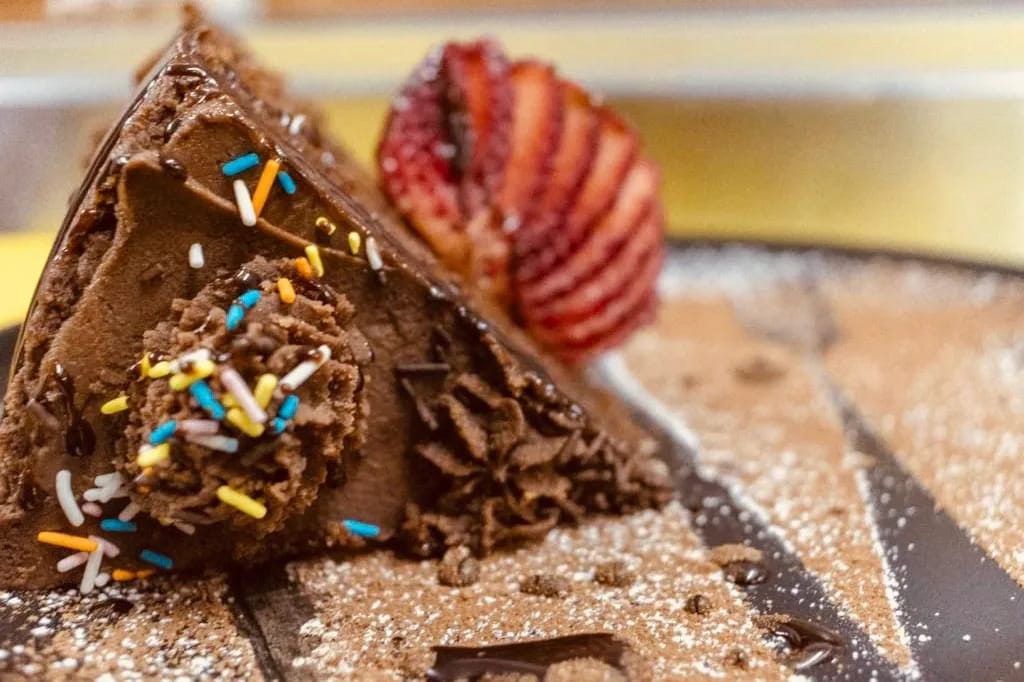 fluffy waffles topped with whipped cream, bananas & strawberries
French style crepe filled with cinnamon apple compote.
Traditional or Cinnamon Pancakes
Served with bananas, strawberries.
Dressing: – Maple syrup, honey, chocolate syrup, strawberry syrup, butter.
Perfect for sharing for an ultra-indulgent treat, hot chocolate sauce, cherries in Kirsch and whipped cream
Rich sundae made with vanilla ice cream, chocolate syrup, brownies Peanuts and whip cream. (contains nuts).
3 scoops of vanilla, chocolate, strawberry
3 scoops of Salted caramel (*Salted caramel contains nuts*)
3 scoops of cookies and cream
Belgian Chocolate Brownie
Served warm with vanilla bean ice cream, rich Belgian chocolate
sauce and a dark chocolate shard
A creamy dessert of espresso & a coffee liqueur-soaked lady fingers layered with Lightly sweetened whipped cream & rich
mascarpone
Savoan Vanilla Cream Cake
Savoan Salted Caramel Cake
Vanilla or chocolate or strawberry shake
Salted caramel shake (contains nuts)
Peanut butter & Banana smoothie
Strawberry Mango smoothie
Potato Wedges – 300/-
Hand Cut French fries – 300/-
Mashed potatoes – 300/-
Fried Plantain – 400/-
Sweet Potato Mash – 400/-
Masala Chips – 450/-
Poussin Chips – 450/-
Beer butter onion rings – 450/-
Ugali – 200/-
Spinach – 200/-
Chef's salad – 300/-
Sweet Potato Fries – 350/-
Sautéed/grilled Seasonal vegetables – 250/-
Bhajia – 450/-
Steamed rice – 300/-
Vegetable rice – 400/-
NB: Takeaway packages & bags have an added fee of Ksh. 100.